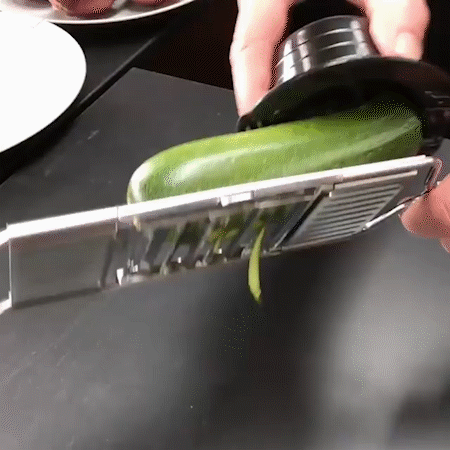 A Set of 3 Shredders: You can get three blades with 3 different size designs, these tools can meet different needs in the kitchen.
Multifunctional Kitchen Tools: These kitchen food shredders are multi-functional, coarsely shredded shredders are suitable for cheese, cabbage, and other products, medium shredded shredders are suitable for vegetables such as carrots and zucchini, you can use fine cut The shredder is used to make pulp, which adds a strong flavor to the dishes.
Safe And Durable: The cutters are made of safe stainless steel. These multi-functional kitchen food shredders are sturdy and rust-proof, which can provide a long service life for your kitchen without worrying about the chance of shredding affecting the taste of food or fruit.
Non-Slip Grip: The ergonomic handle provides a firm grip, prevents the grater from sliding, has less pressure, is safer to use, is easier to store, and has hanging holes to save space and make life more convenient.
Easy To Clean And Store: Easy to clean with brushes and water, just hang them on the wall or put them in cabinets and drawers, or use dishwashers, be careful when washing by hand.Usage Scenarios: Our grater suits for fruits and vegetables, such as ginger, orange, or garlic.
Why do you waste your time cutting vegetables?

If you were tired of slicing by hand, this slicer is one of the best tools in your kitchen.
Our grater will make your work faster and smoother.
Multi-Purpose Vegetable Slicer 
The Slicer is patented, German designed and manufactured. It has 8 super sharp, precise, stainless steel blades, which makes it the quickest and most precise slicer in the world. Designed perfectly to make tasks easier and quicker in your kitchen.
HOW TO USE YOUR SLICER?
There are 3 interchangeable blades with the Slicer.
All the blades are changeable easily by hand.

If you are wanting to slice something small then put your vegetable/fruit on the safety guard, if not then hold it with your fingers far away from the blades.

Run your food over the blades and let the slicer do the hard work. You will find evenly sliced food every time!
USE TIPS
Best suitable to cut long vegetables such as cucumber and carrot, in shorter lengths before slicing use safety holder to have more control and safety.
While Using this slicer, push the food downward towards the blade rather than pulling towards you because it is 8x faster than other slicers.
For the Heavy Slicing, don't forget to use a bowl inside the  Slicer pro.
EASY TO CLEAN
Cleanup our slicer is very simple. Just remove the blade and wash them under the running water with a cleaning brush.
We suggest cleaning using a brush to properly remove residue left on the cutter.
PACKAGE INCLUDED:
1 x Slicer Frame
3 x Blades
1 x User Manual